- Stadt von Unten, Selbstverwaltet und Kommunal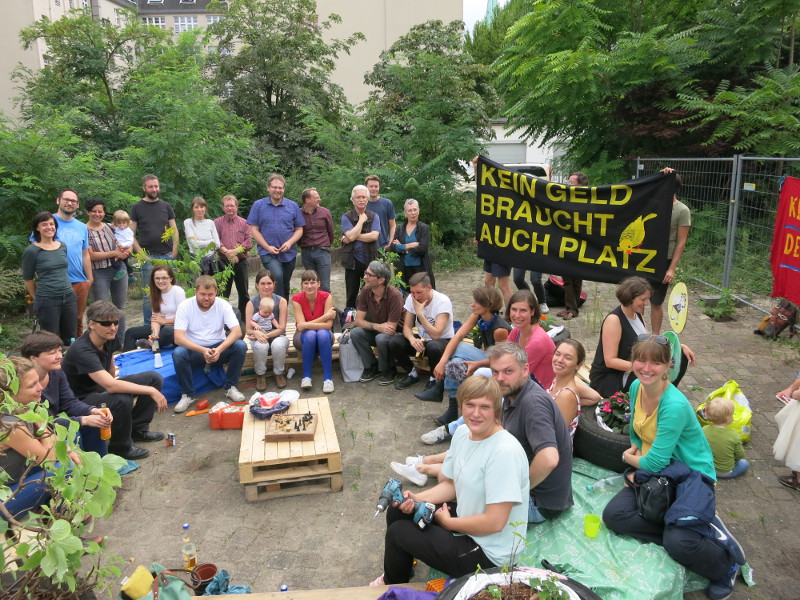 Stadt von Unten (SvU) is a coalition of inhabitants, tenants and civic initiatives based in Berlin, who mobilise for the affordability of housing, in a city in which rent prices have been sharply increasing over the last few years, and home ownership is slowly substituting renting. SvU was formed by people and groups with different backgrounds, such as inhabitants, tenants, project groups and political civic initiatives, architects, designers, sociologists and urban researchers, activists, all committed to bringing back housing affordability at the centre of the urban debate, and to enlarging and strengthening the possibilities of housing for all through grassroots initiatives.
In the period since its launch, in April 2014, SvU has concentrated in particular on the 'Dragonerareal' in Kreuzberg, an underused former military area owned by the Federal Government (BImA, a Finance Ministry agency). The site is a 4,7 ha area, in which several hundred flats could potentially be built, and may become a first testbed for the implementation of a new concrete model of integrated housing intervention. This model of a development from below is not limited to this specific site, but is supposed to spread across Berlin – both spatially and in terms of influencing institutions and planning processes.
The principles at the basis of this model ask for the intervention to be:
100% rent (no private property)
100% affordable (equally for people on social security)
100% accessible (people should not need capital resources to enter)
100% long term (unlike affordable housing schemes in which rents become unaffordable once government subsidies expire)
After the BImA started the selling process based on the highest bidder principle in summer 2014, the development of the Dragonerareal has been quite complex, characterised by stop-and-go in the decision making process: the Areal has become a highly contentious issue, involving the National Government, the Bundesrat, the Berlin Senate and other actors, at different scales, a process which is still ongoing.
Despite the political deadlock, SvU, working jointly with neighbourhood groups and local businesses has animated the area with initiatives and events such as cultural and music festivals, urban gardening in order to demonstrate the potential of publically owned spaces when developed from below.